Westfield, N.C. (April 14, 2022) – Each year, the National Agri-Marketing Association recognizes the best
work in agricultural communications and marketing through their Best of NAMA Awards. This year, the
Certified Agriculture Dealer™ (CAD) Program's AgRally was named the best customer event.
"Since companies and agencies must first qualify through regional competition in order to advance to
the national level, it's a real honor to be named the best of the best," noted Patrick Driscoll, CEO and
President of CAD. "I'm incredibly proud of our team to take a new concept in agriculture and bring it to
reality."

"AgRally is the first of its kind farm show that brings together rural communities locally and nationally to
educate and celebrate agriculture," noted Tim Moan, CEO of RFD-TV and a partner with CAD in bringing
the 3-hour live broadcast to RFD-TV and The Cowboy Channel."
Conducted this year in partnership with National Ag Day, Ag community members were able to access
education and exclusive product information in person as it was being broadcast live from dozens of
local certified agricultural dealerships. Farmers and ranchers choosing not to attend in person could
stream to their smart phone while they work, or even watch from their shop.
Other finalist in the Best of NAMA events category were Corteva Agriscience, Helena Agri-Enterprises
LLC, Illinois Soybean Association, National Cattleman's Beef Association, Pivot Bio and Syngenta.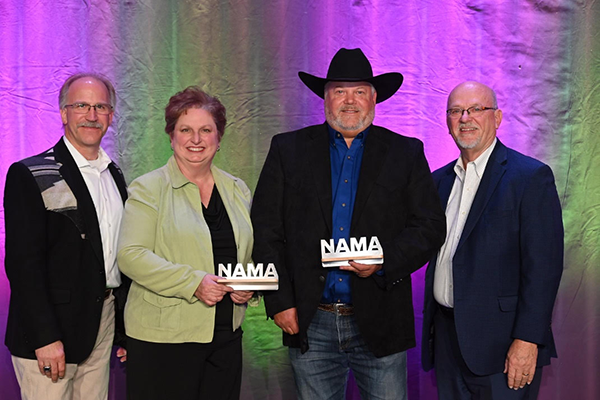 Accepting the Award for the Best of the Best Customer event for Certified Ag Dealer's AgRally Program are (L to R) Pat Driscoll,
CEO of Certified Ag Dealers (CAD); Jenni Wallace, VP & Operations Manager for CAD; Tim Moan, RFD-TV CEO and Lyle E. Orwig,
CMO & COO for CAD.

# # #

About Certified Agriculture Dealer Program
Certified Agriculture Dealerships know farming and ranching as their staff have successfully completed special agriculturally focused training to become a Certified business which can then offer AgPack® a special package of cost savings and rebates that if used to the maximum can save farmers and ranchers nearly $30,000* in operating costs for products and services for their operations.

About RFD-TV
RFD-TV is the flagship network for Rural Media Group. Launched in December of 2000, RFDTV is the nation's first 24-hour television network featuring programming focused on the agribusiness, equine and the rural lifestyles, along with traditional country music and entertainment.